Ashes & Diamonds: A Love Letter to the Napa Valley
Part I
After toiling for a couple of decades as a creative executive in the media and advertising landscape of Los Angeles, Kashy Khaledi finally landed what he had long romanticized would be the ideal job. Now, seated at his desk inside the Capitol Records tower in Hollywood, he instead felt creatively bereft. It was the autumn of 2013 and Khaledi was ready for a change. "There's this famous quote by Hunter S. Thompson from the 70's," Khaledi tells me: "The music business is a cruel and shallow money trench where thieves and pimps run free and good men die like dogs. There's also a negative side."
By the time Khaledi really sank his teeth into the music business, it had changed dramatically. "Now," Khaledi continues, "it's like selling jewelry out of a liquor store during an armed robbery. The labels have all consolidated because they're selling music that's essentially free. Streaming music is pennies on the dollar. What ends up happening is a conveyor belt effect of artists being fed into a machine that's not equipped to handle the load. That machine is a downsized workforce and artists suffer."
As part of that machine, Khaledi's responsibilities were to develop and oversee promos, advertising and music video production for various artists – sometimes a baker's dozen at one time. "It's a lot easier to do when you're selling widgets for Virgin Mobile or Intel, which I had done previously," says Khaledi. "But Elvis Costello, for instance, is not a widget, and I would end up spending too much time and overly humanizing the process. I was lost in my own private myopia."
Whenever he needed to find some creative inspiration, Khaledi would turn to Hulu's Criterion Collection. While he grew increasingly disillusioned by the music business, he came across a film one night that would alter the course of his life. "I was stuck on a music video I shot for this big mega pop star, which would ultimately be shelved," says Khaledi. "I kept coming back to this '50s Polish film, Ashes and Diamonds. There was this haunting scene where the protagonist, who was an assassin in post-WWII Poland, had fallen in love with this girl and was going to get out of the murder business, so to speak. One evening, they were frolicking around, lucky in love, and they came across this writing on a wall that read:
"So often are you as a blazing torch with flames
of burning rags falling about you flaming,
you know not if flames bring freedom or death.
Consuming all that you must cherish
if ashes only will be left, and want Chaos and tempest."
"Or will the ashes hold the glory of a star-like diamond, the
morning star of everlasting triumph."
"There was a clear fork in the road for him," Khaledi continues. "The writing was literally on the wall. Does he choose love or choose to kill? To make a long story short, he continues on as an assassin and is murdered in the end. Not that I'm comparing myself to an assassin in post-WWII Poland, but I will say there is an allegory there for everyone. I chose love and jumped ship."


From that day forward, Khaledi committed himself entirely, unapologetically, to chasing his dream: to create a winery project in the Napa Valley that would be a sweeping collaborative effort, paying homage to the wines from this storied region he most enjoys – those from the mid-century era all the way through to the end of the 1970s. He researched the Napa Valley and its history of viticulture and enology extensively, and the dream started to take shape. "I melted into the internet like a scene out of Videodrome," Khaledi says. "One book I came across, that's out of print – Great Winemakers of California (Robert Benson, 1977) – became a conduit for my taste. It led me to the BV wines from André Tchelistcheff, which were particularly affordable given their quality. I had bought a 1968 Beaulieu Vineyard Georges de Latour that had a scuffed label, on sale for a 180 bucks from Wine Searcher. My wife Laura and I took it up the street to Animal on Fairfax [in Los Angeles] and paired it with bone marrow and Videodrome'd into our glasses. That's the one that changed everything."
Also serving as a conduit and inspiration for Khaledi's tastes were other collaborative projects that unfolded during the mid-century, in particular the Case Study Houses project. Commissioned by Arts and Architects Magazine between 1945 and 1966, the Case Study Houses were an experiment in residential housing. Arts and Architects commissioned some of the major architects of the time to design homes, mostly in Los Angeles, that would be efficient and affordable. Among those architects chosen were Richard Neutra, Charles and Ray Eames, and Craig Ellwood. These architects and a number of their contemporaries found inspiration in one another's work under the auspices of this collaborative undertaking. Ruminating on this project, Khaledi wondered if he might be able to pull together some of Napa Valley's brightest talents to help him create and further delineate the Ashes & Diamonds story. In fairly rapid succession, Khaledi brought on winemakers Dan Petroski (Larkmead, Massican), Diana Snowden-Seysses (Snowden Vineyard, Domaine Dujac), and Steve Matthiasson (Matthiasson) into the fold, as well as winegrowers, Bart and Daphne Araujo (Red Hen Vineyard, Rancho Pequeno Vineyard) and Lisa Chu (Saffron Vineyard), among others.


Steve Matthiasson proved to be a crucial contact early on. Because of Matthiasson's extensive work as a vineyard consultant, as well, he was able to secure for Khaledi a number of superlative vineyard sources. Both men – heavily influenced by punk music and skateboarding – found in each other an affinity for collaborative efforts, for communal undertakings that leave a mark when its participants are all bringing their best to the table. "Growing up in the South Bay of Los Angeles, you get a standard issue surfboard and catalogue of SST Records bands," Khaledi tells me. "As a teenager, my friends and I would treat our skateboards like surfboards and 'bomb hills' – essentially gunning down steep hills like a wave, carving out figure eights to temper our speeds. It got ugly when we fell. We had a van that would trail us, running interference so cars wouldn't plow us, and we would blast all of the SST bands like Minutemen, Black Flag, and Descendents. When I learned Steve skated and was into those SST bands, it rained punk rock points in Napa Valley. I thought everyone in Napa Valley listened to Jimmy Buffet. And then when Steve said he makes wine like Minutemen's 'Corona', I knew I HAD to work with him. Punk is about community, freedom, independence (DIY), equality and authenticity more than anything else. It transcends music. It's not a clique. I take those principles pretty seriously as an adult and instill them in my everyday life – even at Ashes & Diamonds."
Matthiasson's Minutemen reference was a particularly powerful one for Khaledi, who had, over the years, become friends with Minutemen bassist, Mike Watt. "When I was finding my sea legs early on in my career at Grand Royal (Beastie Boys fanzine and record label), I met Mike Watt, and he would share his wisdom with me. He was this mythic figure that was still accessible and warm in a culture that was hardened." Of his friendship with Khaledi, Minutemen's Watt says, "What I really dig about Kashy Khaledi is the way he puts his heart into his work. It's inspiring for me. Our experiences working together have been true collaborations and situations he made happen opened up for me good shots at learning righteous stuff, while at the same time being a springboard for my own expression – a launch pad to get happening stuff lit and lifted off!"


The collaborative undertaking started to take shape as the creative team came together. "Dan Petroski's record as a winemaker speaks for itself," says Khaledi. "Equal to that is his humanity as a friend and confidant. He was an early contributor to Ashes & Diamonds until just after the 2015 harvest when Diana Snowden-Seysses took over for him. As we expanded several new vineyards to our portfolio, his commitments to Larkmead and the burgeoning Massican limited his availability. Diana and I had met just a few months earlier through Steve Matthiasson in Burgundy at Domaine Dujac, where we became fast friends discussing everything from the Maharishi Mahesh Yogi to whole cluster to David Lynch to the old school Napa greats like Mayacamas. When I asked her if she knew of any winemakers – and I, of course, secretly hoped she would volunteer herself – she did so with a level of zeal that breathed new energy into A&D. The possibilities seemed limitless right away. We would geek out about Ridge and Santa Cruz, then next thing you know, we're up there with Paul Draper atop the Monte Bello mountain being given an oral history of California wine." 


In Khaledi's mind, all the vineyard owners, winemakers, architect/artists involved are collaborators. "At its core, it's a community of progressive thinkers that have the ability to exchange ideas with one another. We all take care of each other," Khaledi says. "It's more about the community's expression. It's great to have a dialogue going with them. A lot of businesses and wineries operate as a hierarchy, and they're silos. It's nice to open it up. Science and winemaking work well with this concept of collaboration and community. This winery is a concept album."


Khaledi and I agree to meet up in the Napa Valley for a couple of days where I'll shadow him during his vineyard visits and consultant meetings. We have been corresponding via email for a while now, but I've not yet met Khaledi in person. When he hops out of his SUV at Rancho Pequeno vineyard, he strikes me the same way he does in his missives: polished, formal, unfailingly polite, but with an underlying edginess and rawness that is undoubtedly steeped in a punk ethos. There is a wiry energy about him – the verve of one who's taken a huge risk to chase down a dream and bring it to fruition, or die trying. His relatively calm demeanor belies a man who has everything on the line with this project.
As the coming days unfold, Khaledi shares a quote with me that I'll continue to think about throughout our visit: "The less a man makes declarative statements, the less apt he is to look foolish in retrospect." Khaledi and I fall into an easy conversation over the many hours we spend together, but it's always just this side of measured. He is a man of few words.


Rancho Pequeno vineyard was purchased, and subsequently revitalized a couple of years ago by the Araujo family and is already producing beautiful, distinctive fruit. It is located just off the frequently-travelled Silverado Trail, on Skellenger Lane, in Napa Valley's Rutherford district. The Araujo family home shares the land with the Rancho Pequeno vineyard, as do a sprawling, well-appointed garden, complete with garden sculptures, and a host of brightly colored dragon flies that flit in and out of a water feature just outside the family's front door.


Snowden-Seysses joins us and soon she and Bart Araujo are heading into the vineyard to check on Khaledi's rows. Bart Araujo cuts an intimidating presence as he moves through the vineyard, but disarms me a little as we continue to walk and talk. "When we first came to the Napa Valley, and we bought the Eisele Vineyard, they introduced us to so many people," Araujo tells me. "It was really wonderful. So, to the extent that we can pay some of that back now, we do like to help the newer generation," he tells me. He is selling fruit to a number of up and coming talents. "We met Kashy through Steve Matthiason. We've been working with Steve since 2006. He's very knowledgeable. His parents were university professors so he has that intellectual curiosity. He has dirt under his fingernails; he's a real farmer, and he drives his own tractor and all that, but he's also an academic – a practical academic. Some consultants you work with think only one step at a time, but Steve thinks three steps ahead of time. You can be walking down a vineyard row with him and all of a sudden he's on his hands and knees doing something. It's a real treat to work with him. He's a lovely person. Everyone we sell fruit to we either met through Steve, or was vetted by Steve."
The Rancho Pequeno vineyard looks vibrant, healthy, meticulously farmed. Araujo credits biodynamic farming practices for having rejuvenated this once-neglected vineyard site, and for bringing about a natural balance in the wines grown here, "With biodynamic farming, we can harvest earlier, but with total phenolic ripeness, so the wines are lower in alcohol as a result of biodynamic farming." As Seysses studies block maps corresponding to the rows we walk, she adds, "I think that, essentially, terroir does come down to all the micro-flora in the vineyard. So it's everything that's growing in the soils; the more diverse a population you have in the soils, the better the 'take up' of the characteristics of the soil. Without those bacteria in the soils, there's a barrier that prevents all the nutrients from getting in. With biodynamics, you just have a much larger population of micro-flora." In accord with the principles of biodynamic farming, Snowden-Seysses employs only native yeast fermentations at harvest time, "You have several populations of yeast at harvest time, so it's hard to know which yeast is doing the fermenting. Is it the yeast from the worker's hands, after picking when they've just had bread for lunch? It's hard to say. But, the more diversity you have in the population of yeast at harvest time, the longer that wine will live and the more complex it will be. That's something I feel very strongly about."
Though somewhat delicate in appearance, there's an underlying quiet strength about Snowden-Seysses. She is excited and focused about the upcoming harvest and working with these uncommon sites, "It takes a very different approach to minimize the mark of your hand and to maximize the expression of the land," she says. "I think that farming is absolutely the most crucial element in site-specific wines." Has she started to think about the oak regime for this year's harvest, I ask her. "In Burgundy, cooler vintages actually integrate new oak better, which probably seems counter-intuitive, but I think it's the malic acid. Longer malic acid fermentations digest the oak more effectively. I was expecting that a bigger wine could take a lot more new wood, but I haven't found that that's necessarily the case, and I think a lot of that comes down to the malic acid. Of course, that's not something you can always anticipate when you're putting in your order for barrels." Seysses adds that for the 2016 harvest, she has ordered about 30% new oak barrels.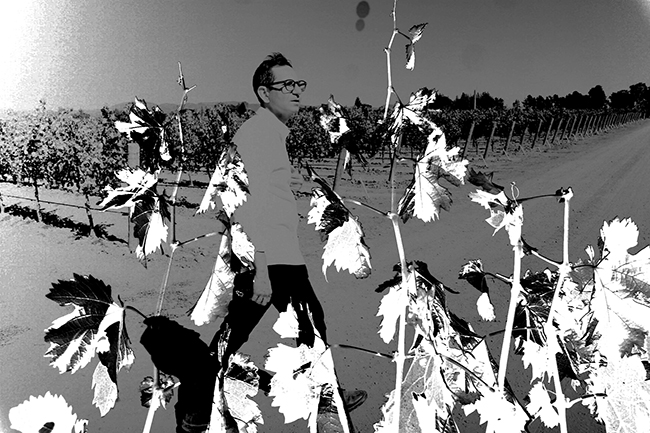 The next morning, I meet up with Khaledi at 7:30 near his estate property. Located in the Oak Knoll district of the Napa Valley, his estate vineyard and future winery site could almost serve as a gateway to the Napa Valley. Just north of the town of Napa, off of its now well-known Hwy. 29, it will be upon completion one of the first wineries visitors see when entering wine country. I arrive a little early to get my bearings. With my Sony Discman stuffed into my jacket pocket, I listen to Lucinda Williams fill the morning with her plaintive, rage-rage-against-the-dying-of-the-light-infused voice. As the sun becomes more prominent, the soil beneath my feet becomes increasingly fragrant. The metal stakes and trellis wires of Khaledi's estate vineyard begin to catch the light as the morning warms. After handing out bright orange safety vests to Matthiasson, Snowden-Seysses and me, Khaledi leads us into his estate vineyard to have a good look at his Cabernet Franc and Merlot plantings.
Waiting for us upon our arrival are the other members of the Ashes & Diamonds viticulture team, Kara Maraden and Jason Lauritsen. Both young and earnest, Maraden and Lauritsen proceed to walk the vineyard rows, with Matthiasson and Snowden-Seysses providing feedback. When Lauritsen asks about green-dropping, Matthiasson is quick to advise that it will be minimal this year. "There's not a lot of fruit," he tells Lauritsen. "Part of keeping alcohols moderate is having enough fruit to balance out the lignification." Maraden asks if Matthiasson's worried at all about short shoots this year? "Not really," he responds, "If the short shoot can't handle it, it'll show it on green drop." And so they continue on, exchanging farmer-speak with a quiet confidence that comes only from walking the walk.
I chime in and ask my own questions of Matthiasson, a tendency born of my own thirst for knowledge and my shameful inclination to demonstrate that I know a little something about farming, too. I ask if they dry farm at the Ashes & Diamonds estate. "Dry farming is a very distinct black and white line. And I think for sustainability, we need to get away from black and white thinking and work with all the factors we do have control over, as well as those we don't have control over. Soils are different. Sites are different. So that's my overall answer to the dry farming question. I don't like black and white thinking. We do try to limit irrigation. To save water and to improve wine quality. We're trying to be sustainable and also make quality wines."
Snowden-Seysses asks Lauritsen and Maraden how much lead time they need to pull together a picking crew once she has decided to call the pick. "It's nice to have 48-hours' notice," Lauritsen tells her, "but we can do put together the pick crew in 24 hours. We'll be night-picking." She emphasizes that she wants them to pick fruit into macro-bins. "Washing those little bins just wastes too much water," she tells them.

When Khaledi first acquired this property, he was advised by many to graft it over, from Cabernet Franc and Merlot to Cabernet Sauvignon. But Khaledi dug his heels in and kept the original estate plantings intact. Though Cabernet Sauvignon plantings would drive up the value of the land, and of the price-per-ton of fruit, Khaledi was compelled to see what might come of those 30-year-old Merlot and Cabernet Franc vines if they were properly nourished and farmed organically. "It's not something people are doing – dedicating their land to Merlot and Cabernet Franc. There's a lot of risk involved. A lot of risk to farming organically, but we're not being whimsical about it. We're being very thoughtful about it. Nobody wants to buy Merlot; they're scared of it, but we're not. I'm not going to let Sideways be the iota that killed Merlot. F**k you, Sideways."
Khaledi surveys his land occasionally, seemingly at times in disbelief that his once nascent dream has come this far. All around us, the bustle of construction unfolds. Heavy equipment is jostled about as we navigate past berms of earth that were scraped in from the nearby highway. When the winery is completed, it will be an homage to mid-century architecture and to the theme of collaboration. "The conceit behind collaboration as a mechanism is to employ an ecosystem of progressive minds to unify and build an ecosystem of environments and products. You'll notice we have quite an extensive selection of wines, styles and formats we are building on. Ashes & Diamonds Winery will be open to the public and will not be exclusionary. It's about embracing the community and culture, and building a habitat that facilitates it. And no, it won't be all things to all people, and it does have a strong point of view, but by offering diversity of terroir and spacious environs, my hope is that everybody feels at home when they walk into our little world, and finds something that touches their heart. It's a love letter to Napa Valley, then and now."


Part II
Up on high in the Mt. Veeder district of the Napa Valley there exists a special little vineyard site called the Saffron Vineyard. Storied Napa Valley properties, like Mayacamas, purchase fruit from this verdant little gem. An impossibly steep drive way leads us to an unbelievably beautiful clearing – a neatly farmed vineyard tucked like a small child into the soil beneath giant towering groves of Redwoods. The sharp fragrance of warm bark, chaparral and wild grasses envelopes us when we arrive. Owned by Lisa Chu, the Saffron Vineyard is a vital fruit source for the Ashes & Diamonds project. Raptors circle above us we make our way down Khaledi's rows of Merlot. Chu agreed to convert her vineyard to an organic farming model upon Khaledi's request. As Snowden-Seysses walks the vineyard, checking on Khaledi's rows, he and I continue to talk about his project. "I do believe that it's going to be a commercial success," he says. "At the end of the day, this is a business and I have to make money from it. I don't have to make a lot of money, but I just can't drown in this thing. And so I do believe that we can make a wine that is profitable from this land. It may cost a little more, but it's not like we're pocketing that money. We're putting it back into the land. There's a lot of manual labor, for example, with organic farming, and that costs a lot of money. At the end of the day, hopefully that will result in a better product."
As the day gets hotter, I start to crave a beer, so Khaledi and I briefly part ways to take a little break. I head over to Panchas in Yountville; one of the truly legitimate dive bars left in the Napa Valley. The stale smell of beer and dusty furniture provides a deep contrast from all of the fresh air I've been breathing on this trip, but the well-lived in environs of the bar allow me to ruminate some. I down a couple of cold IPAs and take some notes. Soon I'll be heading out to George III vineyard in Rutherford, owned by well-known winegrower Andy Beckstoffer. Many years ago, I worked at Caymus Vineyard, which is near George III, but I've never walked those vineyard rows before. Some vineyards are just hallowed ground; they have about them a palpable presence. At the risk of sounding like the hippie that I am, there's an energy in a piece of land that has produced amazing wines over the years, especially if those wines have proven to be age-worthy. Age-worthy wines become, over time, a living archive of a particular place and time. They are history we can take into the body.
As Matthiasson, Khaledi and I walk his rows at George III, I try and imagine what it must have been like when the late, great André Tchelistcheff, walked those same vineyard rows those many years ago. As the winemaker at Beaulieu Vineyard at the time, he sourced fruit from George III. What must he have thought would be the future of Napa Valley wines? Could he have imagined that a former punk rock fan/skateboarder/ dreamer would find Tchelistcheff's wines inspiring enough to lay it all on the line and dream of walking that same path? Upon tasting Tchelistcheff's 1968 Georges de Latour Cabernet, Khaledi says, "I asked Steve Matthiasson why nobody was making Napa Cabernet like this anymore. He was the responsible winemaker that he is, informing me that it's counterintuitive to the contemporary style Napa Valley is known for, and the wine may be polarizing in its youth. We started to work with the same fruit from the Georges III vineyard in 2015, clocking in at around 22 brix, adding in some Cantons to our traditional French oak plan, and realized very early on that it's outright affable in its youth. The aromatics were wild. Strawberry fields forever. The acids and tannins were there too, but utterly elegant and balanced. This is a credit to Steve's ability to toe the line and make a wine that is influenced by the Napa Valley greats from the mid-century, and yet maintain its hedonistic qualities."


Ashes & Diamonds Tasting Notes
How affirming it was to taste the Ashes & Diamonds line-up. The proof is in the bottle with this project; as the old saying goes, these wines "taste like more"...


The Ashes & Diamonds labels were designed by Brian Roettinger, perhaps best known for having designed Jay Z's "Magna Carta Holy Grail" album cover. He has also worked with St. Vincent, Liars, Childish Gambino. The label with scrambled letters will represent the A&D blend, while the "black box" label will represent the single vineyard offerings.
2015 Ashes & Diamonds "Blanc" Napa Valley (50% Semillon/50% Sauvignon Blanc): Upon tasting this wine, my sensory memories took me back to the first time I tasted a Didier Dagueneau Silex. It was the 1998 and my palate was awakened unlike it had been before by the Loire Valley. There was an unmistakable vibrancy and electricity about that wine that I found similar to my experience with the 2015 A & D Blanc.
2015 Ashes & Diamonds "Cabernet Franc" Napa Valley (75% Cabernet Franc/25% Merlot): Texturally, this is an arresting wine. So close to being complete in its youth, it shows great, great promise. Elevated from the kind of rusticity that often visits Cabernet Franc, the length of this wine is profound and suggests a long life of tertiary wonder. Bright, refreshing, yet sophisticated, this struck me as a perfect expression of Cabernet Franc, tempered by a measured Merlot profile. A complete pleasure to consume.
2015 Ashes & Diamonds "Cabernet Sauvignon" Rancho Pequeñno Vineyard, Oakville (100% Cabernet Sauvignon): The aromatics of this wine recall a cold, breezy night outdoors when the earth is wet after a recent rain. The promise of lively, spirited aromatics is fulfilled upon entry; clearly delineated flavors of high-toned blue and red fruits meet with earthier pronouncements of animal fur and roses on the verge of decay. An absolutely breathtaking effort. There is an undeniable presence about this wine.
2015 Ashes & Diamonds "Cabernet Sauvignon" Georges III Vineyard, Rutherford (100% Cabernet Sauvignon): Yet another regal, lovely offering – a wine meant to be aged, or, at the very least, decanted over a period of a few days, during which it will continue to release more of its hidden-ness. Taut, elegant, and pulsating, this Cabernet Sauvignon is ethereal without ever betraying its earth-bound provenance. Truly, an homage to Napa Valley wines I've tasted from the '60s and '70s, particularly those of Inglenook and Beaulieu.
2015 Ashes & Diamonds "Grand Vin" A&D Vineyard, Oak Knoll District (75% Merlot/25% Cabernet Franc): Born at the Ashes and Diamonds estate, this blend serves as a testament to Khaledi's vision of reviving the restraint, taut style of a bygone wine era. The Grand Vin is an exercise in refinement balanced by terroir. There's no mistaking this wine came from the Napa Valley, and yet it pushes the boundaries of what the Napa Valley can be by pursuing purity of site to its end.


Coming in 2016 (to be released in 2019)
Ashes & Diamonds "Merlot" Saffron Vineyard, Mt. Veeder
Ashes & Diamonds "Cabernet Sauvignon" Bates Ranch Vineyard, Santa Cruz (100% Cabernet Sauvginon)
Ashes & Diamonds "Cabernet Sauvignon" Mt. Peak Vineyard, Atlas Peak (100% Cabernet Sauvginon)
Ashes & Diamonds "Cabernet Sauvignon" Red Hen Vineyard, Oak Knoll District (100% Cabernet Sauvginon)
*Photography by Jena Malone. Jena Malone's career stretches across three mediums; music, acting and photography. As a singer, she performs with musician Lem Jay Ignacio as "The Shoe." Her film oeuvre includes Bastard Out of Carolina (1996), in which she made her acting debut, Contact (1997), Donnie Darko (2001) and the Hunger Games film series (2103-15). In photography, she often collaborates with her partner, Ethan DeLorenzo.
---
More articles from this author