Ristorante Da Nino - Letojanni, Sicily
The identity of an entire seaside town in Sicily, Letojanni, is linked to a single institution: Ristorante Da Nino. If you say the word "Letojanni" to any seafood buongustaio, the name "Nino" is evoked with sudden Pavlovian snapback. I had the good fortune of eating at this venerated Sicilian restaurant not once, but three times over this past spring season and summer. I'm still licking my lips to this day.
Letojanni is a long strip of sea-facing buildings that extends directly to the north of Taormina on the low road to Messina. All the tourists eat up at the high altitudes where the historic center of Taormina is so elegantly perched among the jagged peaks. The Sicilians, instead, head down to the infinitely less glamorous succession of concrete apartment buildings and seaside shacks that characterize humdrum Letojanni. Ristorante Da Nino is located in one of the town's most handsome buildings with blue trimmings and beachfront seating. A former fisherman, Nino Ardizzone founded this restaurant in the 1960s. He caught the fish and his wife did the cooking. Today, his son Giovanni runs the business and his sister Maria is in charge of the kitchen. Ristorante Da Nino is celebrated for its excellent sourcing of raw ingredients. Fresh catch of the day is brought in from the sea out front, from the Trapani fish market on the other side of Sicily, from Calabria and from Puglia. One day while I enjoyed my lunch, a local fisherman arrived with an enormous box of sea urchins. Giovanni immediately excused himself to begin price negotiations. Some twenty minutes later those same urchins showed up on a plate. I scooped up the brightly colored roe with a little spoon and enjoyed the delicately salty sea flavors.
As is the custom in Sicily, a meal starts off with a never-ending succession of appetizers. Anywhere from five to ten individual seafood dishes will show up spontaneously. The day I took these photos, I enjoyed lunch with a big group of people. Giovanni was intent on impressing us and he brought out so many delicious appetizers that I failed to keep track. The first thing you find on the table however, are little plates with sweet garlic from Nubia (near Trapani). The garlic is served raw but marinated in sunflower oil, hot chilies and Sicilian herbs. It has absolutely none of the piquant sting you get with commercial garlic. Instead, it tastes like crunchy morsels of pear. Munching on a few cloves of Nubia garlic is the perfect way to whet your appetite. It sounds strange, but it works. The garlic resets your palate to zero.
A parade of appetizers began to appear. First came raw sea urchins that were freshly cracked open only moments before. They are served completely free of any condiments. Then came an epic insalata di mare that is done exquisitely well at Ristorante Da Nino. Steamed mussels, chopped octopus and baby shrimp are served over diced carrots, celery and parsley. The minimalist dressing is made with lemon juice, olive oil and salt. Carpaccio di polpo came next. This is a very elegant dish that consists of octopus boiled in broth with juniper, peppercorns and laurel leaf. The octopus is then pressed into a cylindrical form and left in the refrigerator for 24 hours. The collagen inside the meat holds it together like a sausage. The carpaccio di polpo is then sliced very thinly and served with a filo d'olio, or a "thread of olive oil" drizzled over. One of Da Nino's house specialties is catalana di astice. It is based on shredded meat from a Mediterranean lobster garnished with Pachino cherry tomatoes, rocket salad and olive oil. This first round of appetizers concludes with tartare di tonno (tuna) served as a little patty with chopped apples. The house olive oil is sourced from Frantoi Cutrera based in Chiaramonte Gulfi in the province of Ragusa, Sicily.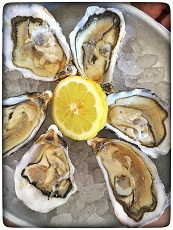 Now for round two: One of the day's most memorable events was the huge platter of raw, red shrimp that appeared before us. These are the celebrated gamberi rossi di Mazara. Marzara del Vallo is in southwestern Sicily and is one of the richest fishing hubs in the southern Mediterranean. Much of Sicily's best seafood is netted here and the red shrimp are a local favorite. The meat is sweet and tender and they are best served raw. Giovanni brought us a local delicacy called neonati crudi di pesce azzurro. These are raw larvae from sardines and anchovies that are technically illegal to fish although I've never seen a restaurant in southern Italy refrain from serving them. If you look closely you can see the silver larvae eyes staring back at you. Although the port city of Taranto in Puglia is known for its local oysters (ostriche), Giovanni prefers to serve the smaller oysters that he imports from France. He selects from half a dozen different kinds depending on what is available. Next up was carpaccio di ricciola, or slices of raw amberjack garnished with Sicilian fennel and thin slices of tomato. We feasted on surra di tonno, or marinated tuna with salad greens that is a common culinary specialty in Sicily. Then came one of my favorite appetizers: Franceschini fritti. These are calamarettti, or baby squid, served fried. This second round of appetizers ended with delicious raw scampi.
Because we started off by eating mostly raw seafood, we accompanied our appetizers with sparkling wine. One of the people in my group was wine writer Massimo Lanza who reviews Sicilian wines for the Gambero Rosso (the publishing company not the shrimp). He is the author of the wine list at Ristorante Da Nino and selected all the beautiful Italian and international wines that Ristorante Da Nino boasts in its impressive cellar. The wine lists offers more than 800 bottles. Massimo decided on two sparkling wines from France and one from Franciacorta in northern Italy. Our first bottle was the Francis Boulard non-vintage Brut Nature Les Murgiers. The wine showed the crisp focus and sharpness to match delicate seafood dishes. Next we tried a delicious bottle of the Cà del Bosco 2006 Franciacorta Cuvée Annamaria Clementi Brut Riserva. This Italian metodo classico sparkler is a blend of Chardonnay, Pinot Bianco and Pinot Nero and its bolder, creamier style worked well with the various crustaceans, especially the red shrimp. Lastly, we sampled a Pol Roger 2002 Brut Blanc de Blancs Extra Cuvée de Reserve.
After the onslaught of appetizers, Giovanni asked what we wanted as a first course. Unanimously, we all voted for the spaghetti ai ricci di mare that had been on our minds since that morning. The dish is painfully simple. Sea urchin roe is scooped out raw and used as the pasta sauce. The trick is to combine the pasta and the ricci at the right temperature so that the pasta doesn't cook the roe. It needs to stay fragrant and fluid. Inspired by my evident enthusiasm for this dish, Giovanni brought me a tiny serving of something special he said he wanted me to try: Risotto ai ricci di mare. This is a recipe I had never previously tried but I will forever seek in the future. I preferred the risotto to the spaghetti because of the stunning intensity of flavor that had permeated each kernel of rice. It was, hands down, the top flavor experience of my entire year. In terms of wine, we went local and selected the Palari 2001 Faro Palari made by Salvatore Geraci just a few kilometers up the coast towards Messina. The red wine is a blend of indigenous grapes (50% Nerello Mascalese, 20% Nerello Cappuccio, 20% Nocera and 10% other grapes). It reveals a tight and silky texture with polished tannins and evolved aromas of wild berry and leather.
Sicily has a serious sweet tooth and its desserts are by far the best in Italy. Giovanni rolled over his cart of dolci siciliani that was piled high with tempting goodies. I chose the cannolo stuffed with fresh ricotta cheese and crushed Bronte pistachios from nearby Mount Etna.
---
More articles from this author