Lisa Perrotti Brown's Guide to the Best of 2015
Covers the wines of Australia & New Zealand.

Years ago, I read and admired a book of essays by American playwright David Mamet entitled, "Writing in Restaurants". This year I was tempted to produce my own rather less profound version entitled, "Editing on Airplanes": the collected word-salad leftovers of some 30,000 tidied-up Wine Advocate tasting notes from 2015 as well as emailed deadline reminders and WhatsApp chats with reviewers, scrawled "to do" lists to myself and texted nite-nites to family far away. Like my colleagues, I spent a good portion of 2015 on planes. A lot of it was for work, but the most special journey was coming back home to America to live, after spending 25 years residing abroad as an expat in London, Tokyo and Singapore.
Besides the move to our new Napa home, a short stay in South Africa and various events tours that took me round the planet several times, I made four visits to Australia in 2015, focusing mainly on Barossa, Victoria and Margaret River, areas where the quality bar has truly been raised in recent years. With my Western Australia report not coming out until February 2016, it's these first two areas from which my top Australia picks emerge this year:

Current Releases: Best of Australia 2015
2010 Henschke Hill of Grace, Eden Valley
A mystical place, a magic vintage.
2012 Best's Great Western Thomson Family Shiraz, Great Western
Best's remains one of Australia's best kept secrets. This wine exudes history, unique terroir expression and ageability, not to mention Aussie Shiraz deliciousness of the highest quality.
2012 Torbreck Les Amis, Barossa Valley
Barossa Grenache at its finest, I just love this big, bold, buxom, Rubenesque beauty. Don't let her deliciousness now fool you into thinking she isn't still going to be a stunner in 15 years' time though!
Current Releases: Best of New Zealand 2015
I did an extensive New Zealand tour at the end of 2014. But these three wines come from my most recent tastings last month, conducted in the USA. Note that I will be conducting extensive tastings of New Zealand wines in January 2016, featuring a big shipment of samples sourced straight from the wineries, so these are actually the best of the new / current New Zealand releases so far. Sorry, no links to the wines are available yet though as these will be published in my report coming out in issue 222. So think of these as teasers...
2013 Schubert Block B Pinot Noir, Wairarapa
Kai Schubert continues to produce a beautiful, perfumed and earthy style Pinot from the alluvial Martinborough outskirts.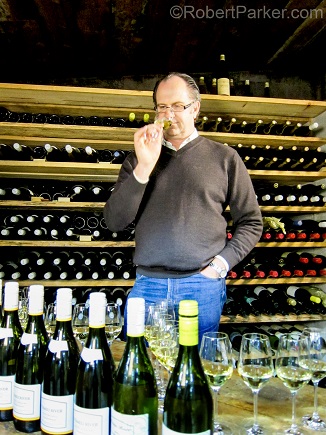 2014 Kumeu River Mate's Vineyard Chardonnay, Kumeu / Auckland
While the more opulent Hunting Hill Chardonnay has been my favorite pick in recent vintages, it's the Mate's Vineyard Chardonnay that truly won my heart in 2014. Produced from a small vineyard of 100% Mendoza (Gin Gin) clone, planted in 1990 and named after this historic winery's patriarch / founder, this truly special year for this wine should age gloriously.
2013 Te Mata Coleraine Cabernet Sauvignon / Merlot, Hawkes Bay
2013 was a fabulous year in Hawkes Bay - the driest season in Hawkes Bay in 70 years, with no excessive heat. This Coleraine offers amazing freshness and power with a firm backbone of ripe tannins.


Current Releases: Best Value Wines
2014 David Franz Eden Valley Riesling, Eden Valley, Australia
I particularly love this gorgeous, expressive and already approachable Riesling made in an oxidative style and showing the heights of greatness and great value that can be achieved in a challenging vintage. Good news - there is even more value to be found in the Eden Valley 2015s, which was a spectacular vintage and is already on retailers' shelves.
2014 Teusner Joshua GSM, Barossa Valley, Australia
Perfume, spice and everything nice in this well-priced Grenache, Shiraz, Mourvèdre blend... plenty of finesse and freshness too!
2014 Two Hands Gnarly Dudes Shiraz, Barossa Valley, Australia
Apologies for featuring three wines from the same region for my value picks, but the Barossa is on fire at the moment in terms of value. The range of Shiraz styles alone would astonish most. This fuller bodied, more "classic" style with tons of freshness and character gets balance and regional expression spot-on, at an incredibly humble price point.
Best Wines Consumed by this Reviewer in 2015
1995 Wendouree Shiraz, Clare Valley, Australia
Shhh...Wendouree...the slightest whisper of this Aussie cult winery gives me goosebumps. Always rare, beguiling, mysterious and full of subtext, to have this incredible Shiraz with 20 years of bottle age and in its "prime" was a true treat.
1982 Cullens Cabernet Sauvignon, Margaret River, Australia
Vanya Cullen pulled a bottle of their 1982 "Cullens" Cabernet Sauvignon from her cellar during my visit to the winery on November. Wow! Made from 100% Margaret River Cab, this wine aged gloriously, looking spritelier than many Bordeaux '82s.
1967 Echezeaux, Domaine de La Romanee Conti
Every year, every wine lover needs to experience at least one pleasant surprise from a long past, purportedly dreary vintage. This was mine in 2015. S'pose it helps if you start with a great domaine and hard-to-mess-up terroir...☺
Best Vertical / Retrospective Tasting of 2015
Leeuwin Estate Art Series Chardonnay
During my visit to Leeuwin Estate in November, winemaker Paul Atwood selected out the greatest vintages of Leeuwin Estate Chardonnay produced, including the epic (and still glorious) 1985 and 1987 vintages. Full details will feature in an article in Issue 223.
Best Dinner of 2015
Yallingup, Western Australia
During my Margaret River visit, a group of wine friends from Singapore, Bangkok and Melbourne came together for a proper Aussie BBQ at a friend's place in Yallingup. It was the company, first and foremost, that made this a truly special dinner. Plus there was a pretty awesome line-up of wines: David Laclape 2005 Rosé Champagne, 1988 Dominus, 1988 Sassicaia, 1982 Gruaud Larose, 2002 Mouton Rothschild, 2005 Palazzo Red Wine (Napa), 2009 Palazzo Red Wine (Napa), 2004 Harlan Estate, 2006 Harlan Estate, 2005 Vincent Girardin Chambertin, 1996 Clarendon Hills Astralis, 1995 Beaucastel Hommage a JP, 2004 Henri Bonneau Reserve des Celestins & 1995 Wendouree Shiraz.
Best Get-a-Life Outside of Wine Things of 2015
Having spent a lot of time on planes this year, most of my free time happened at 40,000 feet. When I wasn't editing and rewriting "to do" lists, I was watching movies. At home with my two young'uns, I'm pretty much limited to Pixar / Disney flicks. As a closet horror-film junkie (think classic Stephen King, John Carpenter and Wes Craven as opposed to the more recent "Saw" movies), I look forward to getting my on-board fix. As well as my top three scary films, I've also short-listed some of my favorite comedies and "others" from 2015. And ok, yes, this includes one truly awesome Pixar / Disney production...☺
Best Horror
The Final Girls, Director: Todd Strauss-Schulson
It Follows, Director: David Robert Mitchell
The Babadook, Director: Jennifer Kent
Best Comedies
Trainwreck, Director: Judd Apatow
Entourage, Director: Doug Ellin
Spy, Director: Paul Feig
Best Others
Mr. Holmes, Director: Bill Condon
Slow West, Director: John Maclean
Inside Out, Directors: Pete Docter & Ronnie del Carmen
Finally, seeing as though my colleagues have a "best music" category going-on, and bearing in mind that I only listen to music these days during school runs and from a playlist of tunes purpose-selected for the gym, here are my top three singles for 2015:
Ex's and Oh's, Elle King (Love Stuff)
Uma Thurman, Fall Out Boy (American Beauty / American Psycho)
Roses (featuring Rozes), The Chainsmokers
---
More articles from this author