With snow dancing outside the window, Kikunoi's garden is beautiful and pure white. Drinking warm tea inside, I am so impressed to start the meal with lectures by two famous people, the Japanese food specialist Dr. Isao Kumakura and Kikunoi's owner and chef Yoshihiro Murata.
"Japanese food is more healthy, as we use umami instead of oil," says Chef Yoshihiro Murata, "and we are like the birds in [the] forest, eating many things in small [bites] to keep overall nutrition intake."
He owns three restaurants (two in Kyoto and one in Tokyo), with a total of "seven Michelin stars" in hand. In his three-star restaurant in Maruyama, he offers us traditional Japanese cuisine designed for the season.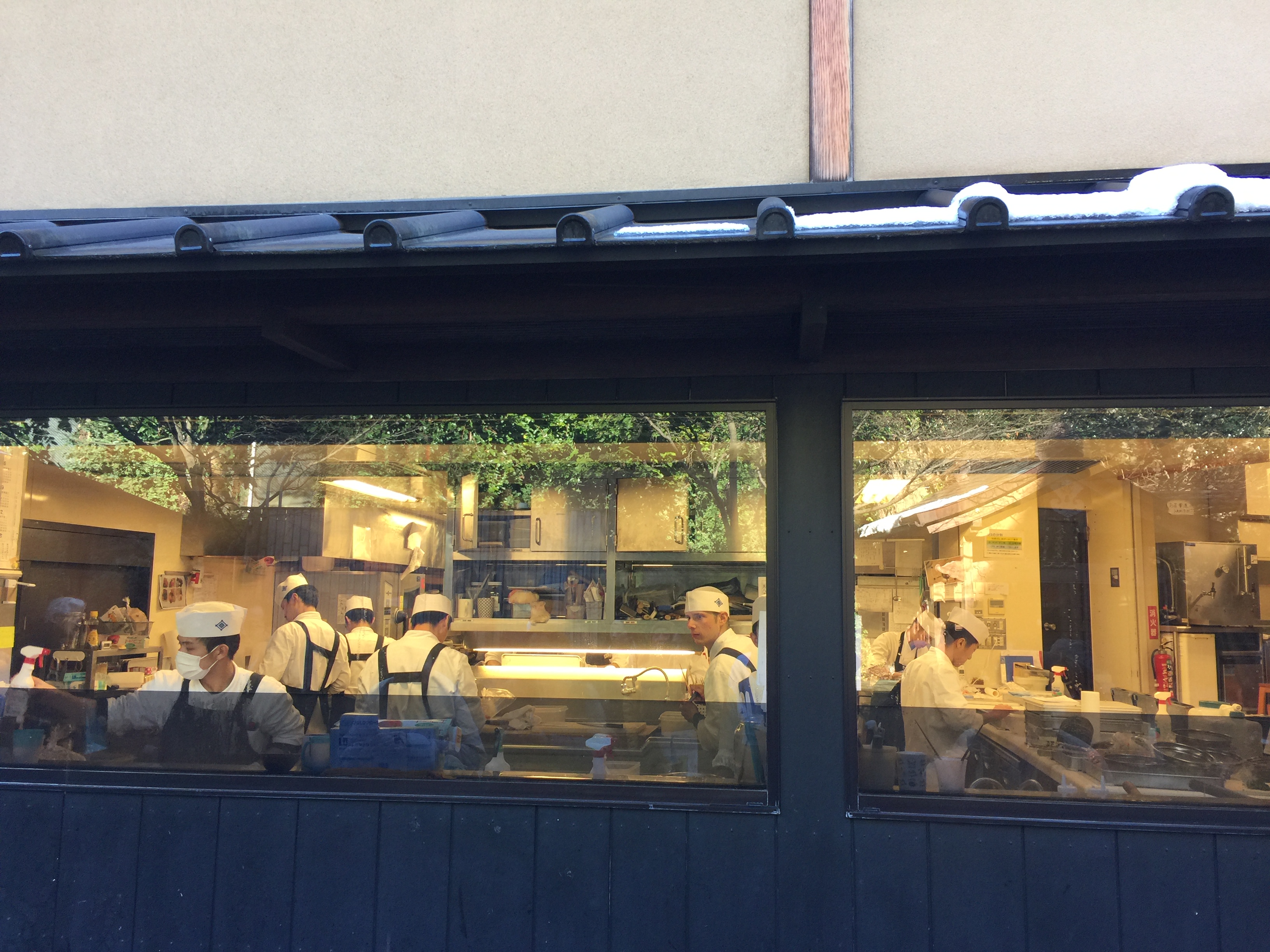 The meal is full of real tradition, both in terms of food and service. As Dr. Isao Kumakura tells us, "It is just 70-80 years ago in Japan [that] people starting the new style of [the] sharing table. [For] 1200 years [of] history, Japanese people ate individual meal in plates." Honzen is the name for serving dishes in plates on a tray, and in old times, up to seven trays could be served to a single person.
But we are offered with nine honzen! It's more like treatment for a feudal lord (daimyo), if we were in the Edo period (1603-1868). At that time, guests would not eat all of the dishes served, as they would pack the best dishes to bring back home for their families. Now in Japan, this practice is not possible because of restaurants' food safety concerns.
The best Japanese cuisine is always like art. From the first dish—an assortment of appetizers—the chef also wants to express his best-New-Year-wishes to guests, as the "sail" shaped turnip roll means "bringing fortune." It is an art, and more importantly, it is delicious. Small pieces of different items do bring many enjoyments on the palate, and it goes very well with light and elegant Yamamoto Honke Iwai Junmai Daiginjo.
Their sashimi of tai (red sea bream) and koshibi (young bluefin tuna) are unsurprisingly good, and sake is the eternal companion for sashimi. Kitagawahonke Tomio Daiginjo is this kind of "wasabi sake," with its fresh and fruity style to match. Even with soup, sake has no problem pairing, and I prefer drinking them both chilled and warmed. We have a rich soup like prawn and lobster consommé with white miso and sake lees soup. Interestingly, an elegant and feminine sake like Sawaya Matsumoto Junmai Daiginjo Ultra pairs very well with them. It lifts the flavors of food, while its power and body balance the soups.
The most interesting pairing is a wine-like sake with sashimi of fugu (pufferfish). Yes, the pufferfish is poisonous, but experienced chefs can clean it very carefully and take out all the poisonous parts, as we would hope. Anyway, you don't need to sign an insurance contract before eating it, and it is just fabulous. The fish has a soft but crispy texture, which goes well with Masuda Tokubee Shoten Kasegi Gashira Junmai. The sake is an innovation with a refreshing and fruity white wine style and 8% ABV. Of course, a German Mosel Riesling can also pair beautifully with fugu. Even though it is made with rice, this sake does have something in common with a sweet Mosel Riesling.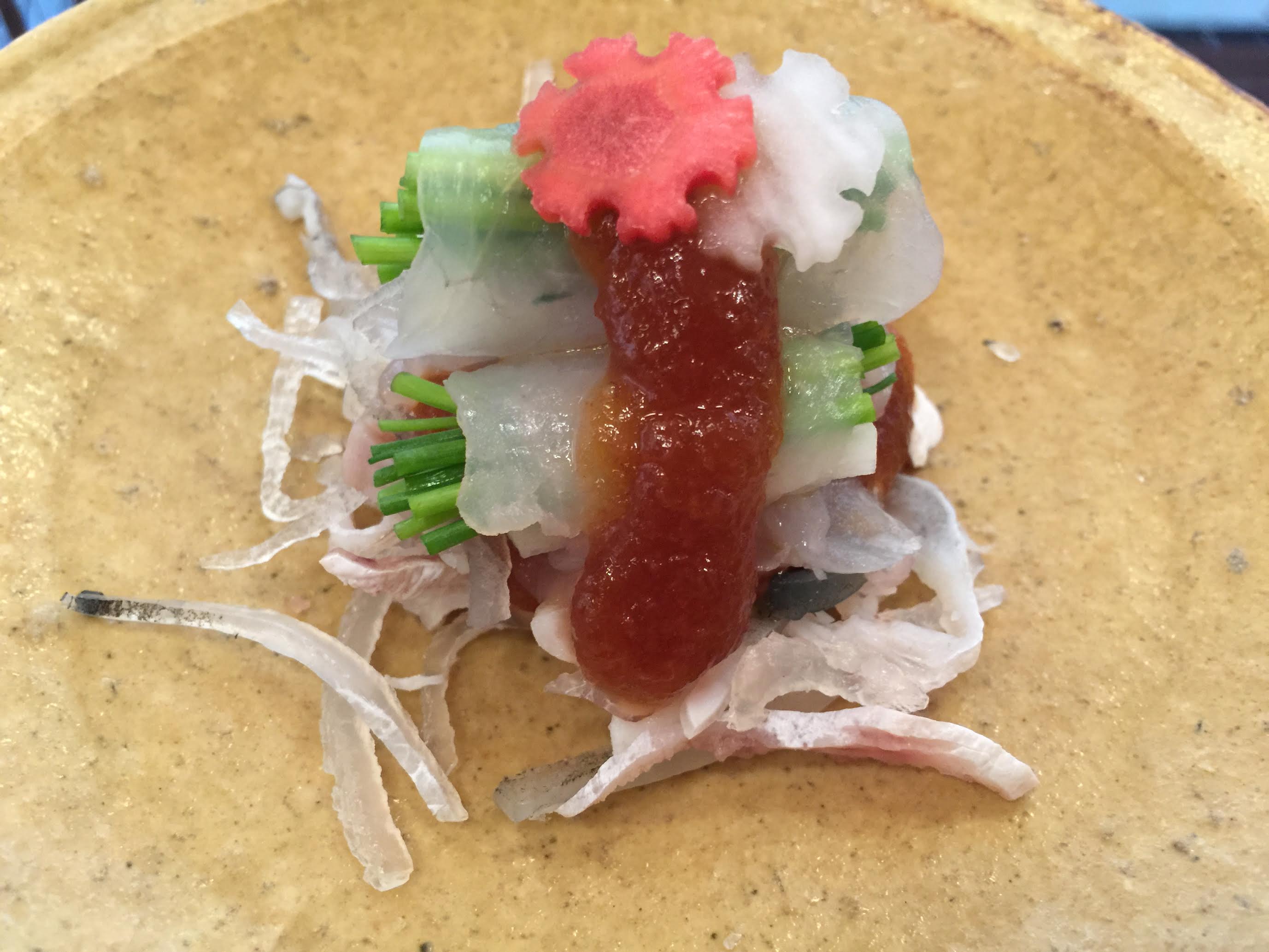 The lunch in Kikunoi is so memorable, and I just feel spoiled. I might come again for the same dishes, but it won't be possible to have the same experience.
---
More articles from this author