Hundreds of bottles of wine stand in neat rows covering the entire floor of my office in Rome like a thick carpet of dark glass. I am afforded a thin walkway that requires careful sidestepping to reach my computer. Once at my desk, I spend most of the day tasting wine, sniffing, sipping and spitting.
As a professional wine taster and the Italy reviewer for Robert Parker Wine Advocate, I am responsible for all reviews of Italian wine—up to 4,000 samples per year (or 11 wines per day, holidays and weekends included).
Robert Parker Wine Advocate is an independent guide to fine wine that is published in the United States but read around the world, and it is owned by Michelin, of the celebrated restaurant stars.
My job is to decipher the magical finesse of wine: the slightest shades of ruby, the softest whiffs of violet or the finest tannic texture. These nuances are translated into a numerical score. Very rarely, a perfect 100 points is awarded, and there is no greater honor for me than to pin that three-digit score onto a bottle from Italy.
As I now enter the 20th year of my career, however, I yearn to look beyond the scores and the subtleties to a greater meaning. Wisdom must surely be acquired when the DNA of some 100,000 wines passes through one's organism.
My latest project is an attempt to define Italian wine. Why is Italian wine different than wine from France, or from my birthplace California, or from any other grape-growing region? What is the emotional connection to Italian wine? What makes that 750-milliliter serving of italianità so irresistible to oenophiles worldwide?
Sure, other countries may boast more coherent or mainstream wine styles, and their appellation systems may be easier to understand, but Italian wine radiates sheer personality.
A work in progress, my definition of Italian wine has three parts so far, and my guiding principle—a motto I keep on display—is this: Per raccontare il vino italiano, bisogna prima capire l'Italia del vino. ("To talk about Italian wine, you must first understand the wine of Italy.")
Part one of my definition is what I call "varietal voice." Italy is home to extraordinary grape biodiversity, with 545 cultivated varieties. Naturalist Pliny the Elder famously remarked that the peninsula had more wine grapes than there are grains of sand on a beach. My friend Attilio Scienza, a professor at the University of Milano and the greatest expert in the field today, put it this way: "Italy is the Amazon jungle of viticulture."
From Carricante that makes electric Etna whites that are packed with citrus, freshness and salinity, to the punchy flavors of Ciliegiolo in Maremma, to the classic elegance of Nebbiolo in Piedmont with licorice, truffle and hazelnut, Italy's genetic patrimony is unmatched.
That remarkable plurality of aromas that we submit to our olfactory system reminds me of the effect that Italy might have on another sense, our hearing. Dozens of languages and dialects are spoken. Some have shared words, and some are indecipherable, however each perfectly communicates the character of a geographic location.
Varietal voice is the unique ability of Italian grapes to talk to us, to be a storyteller for an entire region. Sometimes we listen to a solo voice, like Sangiovese in Montalcino, and sometimes we hear a chorus, like the blended grapes in Amarone della Valpolicella. This tiny, spherical berry is a fluent narrator for Italy.
The second key to my interpretation of Italian wine is the concept of Genius Loci, or spirit of place, and you feel it when walking through the vineyard rows. The French have embraced "terroir," defined as an almost mystical confluence of environmental factors that give identity to a wine. It explains why Pinot Noir in Burgundy might taste different from one domaine to the next.
Outside Barolo and Barbaresco, where you have one variety—Nebbiolo—planted across carefully delineated sites, I have a hard time applying terroir to Italian wine. There are too many unruly variables at play to accept the French magic.
I am partial to the Roman magic Genius Loci because it implies a sustainable and holistic approach and a greater emphasis on the human factor. Great wine is not only a product of a noble vineyard. Italy proves that rural farming traditions, church, art, culture and regional cuisine—from ravioli al plin to busiate alla trapanese—also figure into the identity of an Italian wine.
The last part of my definition is linked to Italy's important winemaking past and what it means for the future. Spanning the sun-drenched 45th to 38th parallels, Italy was a giant nursery in antiquity conveniently located on major Mediterranean trade routes. In Enotria, grapes were propagated by seed and not by stem cutting. This gave rise to exceptional biodiversity. Cloning creates an exact photocopy of a vine. With research and selection, a clone of Cabernet Sauvignon is poised to thrive anywhere from Bolgheri in Tuscany to Napa in California or Margaret River in Australia.
Instead, Italian wine mostly comes from a hodgepodge of autochthonous grapes, some problematic and inconsistent, that underperform when planted in foreign soil. But they have big personality, varietal voice and reflect Genius Loci. The biggest competitive advantage of Italian wine is that no one else can make it.
Genetic diversity gives Italy a significant edge as we face climate change. Hidden somewhere in that chaotic nursery is the proverbial seed for grapevines that will resist drought, heat, humidity or whatever may come.
To condense all of my experience learned over 20 years and thousands of samples tasted, I believe that Italian wine can be summed up as this: It is a beginning.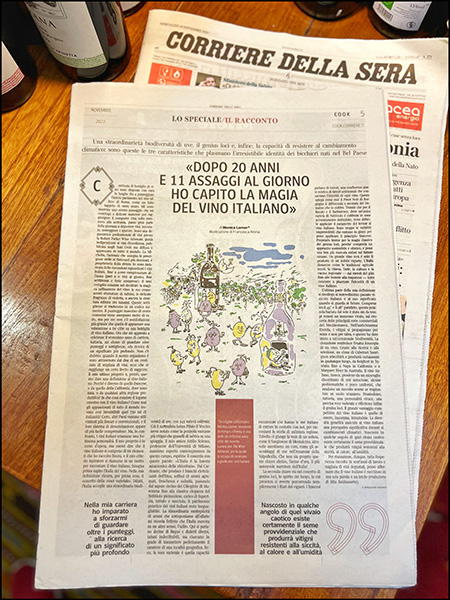 ---
More articles from this author