I am waltzing like Fred Astaire across the cobblestones outside the Hôtel Dieu in the afterglow induced by a vinous Holy Grail, one that I never dreamed of drinking. 1978 Romanée-Conti. I an convinced that I can still taste it. There must be molecules present in my mouth. Maybe I will forego brushing my teeth tomorrow? Then I halt mid-waltz. The frosty air brings me to my senses and the unparalleled evening of libation into clear focus. Now I remember. The 1978 Romanée-Conti wasn't even the best wine of the night. Not even the second. A bronze medal for a supposed pinnacle of Burgundy winemaking? The gold medal, the bottle that stopped the Earth spinning and sent hearts aflutter and prompted choirs of angels to sing "Hallelujah" and defined true perfection, was in fact, a back-up bottle. It was a substitute that ran onto the pitch and scored a wonder goal.
Perhaps my recounting of last year's dinner at "1243 Bourgogne Society" is irrelevant to anyone but the dozen or so attendees, since the wines were off the scale in terms of rarity and expense. Furthermore, if you are intending to dine here, then please note that it is a rather clandestine private club that costs a small fortune to join and adopts such a strict membership policy that there's greater chance of a eunuch joining the mile high club than you or I receiving an invitation. (Insert Groucho Marx quote here.) I was fortunate to be acquainted with one of its members, who had planned an evening's vinous entertainment with an array of mind-boggling bottles.
So what is the point of writing it up?
Well, on reflection, unless I win the lottery, I am unlikely ever to drink 1978 Romanée-Conti again, so this is my one and only chance. Furthermore, I want to heap praise upon the young chef and sommelier who did such a brilliant job handling such fragile bottles and matching them with such exquisite cuisine. So here we go. If you want to read about affordable wines, then seek out my Beaujolais or South Africa reports. If you want to know about that 1978 Romanée-Conti or the sublime 19th century Yquem, then read on, in the knowledge that if I could have shared the experience with all of you, I would have done so. Maybe.
Those who have walked through central Beaune probably passed this private members' club in blissful ignorance; no surprise given that its entrance is an innocuous door with a bell. Members are Burgundy collectors and aficionados, access limited to a handful people and the nuns who continue to reside in its cloistered hallways, as they have done for centuries. It serves as a convenient venue for them to meet invited friends and winemakers; to host private dinners such as this; to share bottles away from the gaze of tourists. There is no resident chef, so unless hosts want to go out and fetch a few Big Macs, they must hire a chef to prepare the menu and pour the wine. Adrian Zarzo, formerly sous-chef at the 3-Michelin star De Librije and now owner of his own 1-star eponymous restaurant, conjured a sensational selection of dishes to complement the wines. Handling such rare and fragile bottles demands a top-grade sommelier and these antiquities were left in the capable hands of Job Seuren, who like Adrian worked as De Librije as head-sommelier and is a board member of the Dutch Sommeliers Guild. The standard from both guys was exemplary.

With respect to the menu, it was essentially one spectacular dish after another. There was nothing that clogged the digestive system, each course light and fresh, enabling us to focus upon the wines and not become fatigued, as so often is the case. Highlights for me included the first course that to all intents and purposes looked like a boiled egg. It wasn't. Well, it did include a boiled egg but it came with a healthy dollop of caviar, Iberico ham, carrot and orange, certainly not the recipe that grandma used when she used to make "egg and soldiers." The combination sounds odd, but they worked sensationally as an ensemble, a bit of gustatory light heartedness to kick things off. Then there was the mouthwatering lobster tail with buerre noisette and capers (pictured), all decorated with edible flowers so that it looked as good as it tasted. The lobster tasted as if it had just crawled out of the sea and was a perfect match for the whites, which I gabble on about further on.
Another was the outrageous veal sweetbreads, here crowned with fresh prawns and lentils. It kind of looked like the prawns had all crammed onto a dingy and were hanging on for dear life aboard a sea of creamed potato. It was followed by a 15-day dry aged beef served with lards and artichoke. I am never keen on the latter and find it upsets wines, so I left that to one side and concentrated on the meat that was perfectly tenderized and threatened to overwhelm some of the more fragile, accompanying older Burgundy wines. I should also mention the cheese course that came courtesy of Alain Hess fromagerie located on the opposite side of the square (where I regularly pick up my 24-month-old Comté that my daughter has become addicted to.) Pinot Noir is very sensitive to cheese, to the point where as a rule, I never serve them together. The texture strips Pinot Noir of its flavor and so the cheese selection has to be neutral in flavor, so yes, you can forget stinky Epoisses if you really want to appreciate the nuances of an aged grand cru. The cheeses were outstanding, but I stupidly forgot to note them down.
Of course, I have to mention the cornucopia of quite incredible bottles that were served to our group that included one or two famous winemakers, Allen Meadows and myself perched at either ends of the long table. The 1996 Krug Clos de Mesnil was as razor-sharp and primal as you would expect. One attendee, no less than Klaus Peter Keller and his wife, brought one of a handful of magnum of 2005 G-Max Riesling whose unctuousness was brilliantly offset by the tension and acidity (and let's face it, nothing looks as impressive as those tall German Riesling magnums). The 2005 Corton-Charlemagne from Domaine Coche-Dury remains one of the greatest white Burgundy wines in recent years and I have little doubt that at some point I will give it a perfect score. To be brutally honest, it wiped the floor with the 2005 Montrachet from Domaine Leflaive. This is a very rare wine since only a barrel is made each year, so I was looking forward to it immensely. However, compared to the animated and imperious Corton-Charlemagne, it just seemed a bit, dare I say it...ordinary. There was also a 1978 Montrachet from Domaine Ramonet but the deep amber color was a warning that this bottle was not going to ordain any drinking pleasure unless you are into necrophilia.
The next flight was the show-stopping trio of Romanée-Conti. Over my 20 years of tasting I hardly ever had the fortune to taste mature Romanée-Conti, because of the simple fact that I am not a millionaire. So to have not one but three vintages side-by-side was a privilege, no less than the 1991, 1978 and 1966, three revered vintages. It was a bit like seeing John Lennon, backed by Jimi Hendrix and Janis Joplin, except hopefully these were still alive.
Easily the finest of the three was the 1978 Romanée-Conti, a bottle that lived up to the billing. It actually came from a well-know, but discrete European collector and the impeccable provenance shone through. Even though a case would cost you a six-figure sum (and we are not talking Nigerian dollars), what it boiled down to was just a gorgeous, mature, slightly rustic but ineffably complex Pinot Noir. You wanted to savor every drop. You wanted to be its friend. Interestingly, Allen Meadows remarked that the 1970s was not a great decade for Domaine de la Romanée-Conti, blighted by a run of disappointing vintages and practices that would be eschewed nowadays... Except for 1978. In this year they just got everything right and that was attested both by this bottle and a 1978 La Tâche that I drank recently. I enjoyed the 1991 Romanée-Conti, although it did not possess the fireworks I was expecting and perhaps here I prefer the 1991 La Tâche. I have had 3 or 4 wines from Domaine de la Romanée-Conti born in 1966 and they have all been utterly sublime, however, there was something awry with this bottle. It was not corked, but it was "poisoned" by a malodorous metallic scent that worsened with aeration. Such a shame.
To make amends for the 1966, at that point the 1971 Clos de la Roche from Domaine Ponsot was opened, a back-up bottle generously brought by a Belgian friend. I have scant experience of venerable wines from Ponsot, especially those made by Laurent's father, former mayor of Morey-Saint-Denis, Jean-Marie. Bottles from this era are now incredibly rare. And I can understand that because when I tasted this wine I could not comprehend why anyone would want to part with it. As readers will know, I am not partial to lobbing perfect scores here and there. A wine has to go way beyond satisfying the senses. It must elicit a religious or spiritual response. It must be faultless. It must be almost impossible to encapsulate in something as banal as words. This 1971 was a revelation and probably stands as one of the greatest mature Burgundy reds that I have ever encountered. To put that into context, a few minutes earlier I had been contemplating whether that 1978 Romanée-Conti was perfection. My scintilla of doubt was confirmed when this Clos de la Roche came along. Even though both wines were out of this world, it reinforced the notion that at least to me, there is almost a chasm between 99 and 100 points (and yes, numerical scoring does seem absurd when discussing such bottles). To give you some background, a few days later I showed a photo to a friend who was sure it was a fake, since Rudy Kurniawan "specialized" in Ponsot (in fact, I had dinner with Laurent Ponsot in London before flying out to the USA to halt the infamous auction). However, this bottle had come from a well-known, impeccable cellar and the long and short of it was that another bottle from the same case journeyed down to Morey-Saint-Denis for inspection at the domaine. And thank the Lord, it was confirmed as the real thing. That is the sad legacy post-Rudy: ethereal wines of this caliber are immediately cast under suspicion; guilty until proven innocent. Those are the times in which we live.

Following these highs we were reminded that when it comes to venerable bottles, especially Burgundy, you have to take the knocks sometimes. The two wines from Bouchard Père & Fils were lovely, both the 1971 Grands-Echézeaux and the 1971 Richebourg proving what a fantastic vintage it was on the Côte d'Or, my preference for the former that was a little fresher and complex. Unfortunately the next flight demonstrated that there are no great wines etc...etc... The 1949 Chambertin from Armand Rousseau was fatigued and slightly oxidized, a pity since apparently another one from the same case had been sublime just a few weeks earlier. The 1952 Musigny from Maison Leroy was clearly misfiring. Perhaps best of the three was the 1947 Musigny from Chevillot, though frankly it was a long way behind the earlier wines.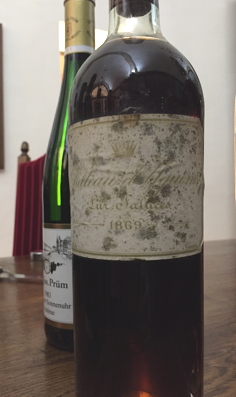 Still, the evening ended with style. The 1939 Yquem proved that even in the most deplorable growing seasons the estate could still not only make a delicious Sauternes, but one that continues to give pleasure 76 years later. And the time-defying antics did not end there. A bottle of 1869 Yquem was utterly profound, the oldest vintage I have drunk (to date). According to Michael Broadbent, it was a 5-star vintage in Sauternes and he noted that picking commenced on 15 September. Deep amber in color, the bouquet was intoxicating, the palate profound and complex; viscous and rich even after 146-years, awash with fig and crème brûlée that echoed the exoticism remarked by Broadbent himself when he tasted this incredible Sauternes.

That ended what had been a memorable evening of wine, food and company. As always, dealing with such old and rare bottles always involves some trepidation, because even when utmost care is taken in terms of provenance, some bottles just do not perform on the day. Yes, it is a bit like Russian Roulette when it comes to Burgundy, in my experience more so than Bordeaux. Then again, that is part of the allure. While I can still only dream about what a perfect 1949 Chambertin from Rousseau might taste like, I departed that evening safe in the knowledge that I am one of a handful of people to have experienced that 1978 Romanée-Conti, 1869 Yquem and not least, 1971 Clos de la Roche thanks to some munificent friends who shared them. So yes, I walked the short distance back to my hotel with a spring in my step, light-headed but not inebriated, since my first visit was early tomorrow. But I knew that I would have sweet dreams that night.
My sincere thanks to Joost Clarijs who organized this spectacular soirée and generously poured nearly all of the wines at 1243 Bourgogne Society. Also thanks to the chef and sommelier who handled a challenging evening with impeccable professionalism.
---
More articles from this author